The order battle between Boeing (NYSE: BA) and Airbus (OTCPK:EADSF, OTCPK:EADSY) is one way for the companies to flex their muscles, next to marketing their respective products as the best solution with the highest fuel efficiency and passenger comfort. Even though the orders (in terms of value) are in no way a reflection of financial performance, it's important to have a look at the order inflow. That's because the order tallies give a nice impression of which manufacturer has the best mix of discount, comfort, slot availability and efficiency and it gives an idea of the overall health of the aircraft market and appetite for new aircraft.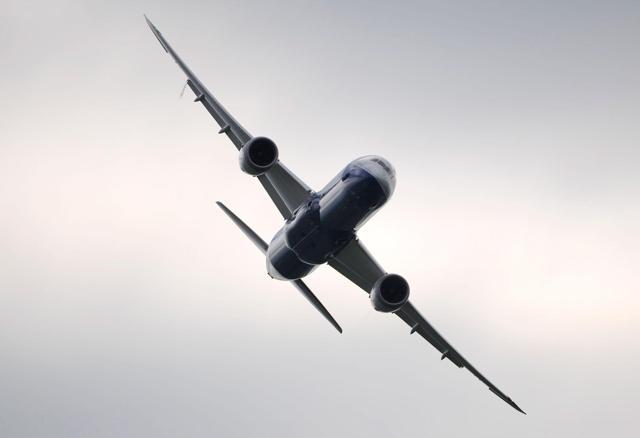 Source: ainonline
In this article, AeroAnalysis will look at the order inflow during March for both manufacturers and their role in the narrow and wide body markets.
Overview for March
Airbus and Boeing together hauled in 205 gross orders in March compared to 169 orders in the same month last year. The increase is primarily caused by Boeing booking 2 mega orders slightly offset by lower orders for Airbus. Looking at the division of the orders in March, we'd mark Boeing as the winner as it logged 197 orders versus 8 for Airbus. In terms of value, Boeing received $13.3B worth of orders versus $0.4B for Airbus.
In March, Boeing booked 197 gross orders, 37 wide body jets and 160 single aisle aircraft:
1 Boeing 737 MAX BBJ was sold.
Jet Airways booked a long awaited order for 75 Boeing 737 MAX aircraft. Talks had been ongoing since mid-2017.
An unidentified customer ordered 73 Boeing 737 MAX aircraft.
SkyUp Airlines ordered 5 Boeing 737 MAX aircraft; 2 MAX 8s and 3 MAX 10s.
Two unidentified customers ordered 2 and 4 Boeing 737 MAX aircraft, respectively.
Boeing also received orders for its freighter aircraft as an unidentified customer ordered three Boeing 767-300Fs while Japanese ANA committed to purchasing two 777 freighters.
An unidentified customer ordered 1 Boeing 787-8 aircraft
Turkish Airlines ordered 25 Boeing 787-9s as expected.
BOC Aviation ordered 6 Boeing 787-9, possibly a swap with an existing customer that canceled its order.
The full report on Boeing's orders and deliveries in March can be read here.
In March, Airbus booked 8 gross orders, 0 wide body jets and 8 single aisle aircraft:
An undisclosed customer ordered 6 Airbus A320neo aircraft.
VietJet Air ordered 2 Airbus A321ceo aircraft.
The full report on Airbus's orders and deliveries in March can be read here.
March was a good month for Boeing with 2 mega orders one of which from a customer in the fastest growing market. The jet maker also added tens of orders for the Boeing 787 and also the freighters seem to be in demand.
For Airbus, we continue seeing challenges to accumulate wide body orders as they come in flocks instead of a more continuous stream but this is partly caused by the Airbus A350 going through the first cycle of filling orders with customers and the Airbus A330neo has yet to enter commercial service.
Overview Year-to-date

Figure 1: Infographic March 2018
Airbus received 23 cancellations in the first 3 months, leaving the jet maker with 45 net orders. Boeing received 255 orders and 34 cancellations in the first 3 months of 2018, bringing its net orders to 221. Looking at the net orders, Boeing is having a strong lead over Airbus but this of course doesn't say a lot since a few big orders can completely change the game as we saw last year.. It will be very interesting to see how many orders both jet makers materialize until and during the Farnborough Airshow later this year.
Airbus is having a better start of the year compared to last year when it booked it 26 gross orders and ended the quarter with 6 net orders. Boeing also saw its orders inflow improve for the quarter; gross orders increased from 213 to 255, while cancellations increased from 28 to 34.
Boeing and Airbus both will be happy with the order inflow in the first quarter, though Airbus would likely like to see order inflow on its wide body programs pick up and that is also something we expect to see in the future.
Conclusion
After 3 months, we can see that Boeing is having a strong lead but this lead is now very firm. Both jet makers can turn the battle around in just one month as Airbus portrayed last year, but we'd expect to be able to see some clear headings after the Farnborough Airshow that will take place in July. What is interesting is that Boeing is expecting moderated order inflow, which is a rather vague term while Airbus expects to maintain a book-to-bill of 1. This is not necessarily an indication that Boeing expects to book less orders since it produces more aircraft than Airbus, but it seems that Boeing is more cautious about their ability to accumulate orders in 2018. From what we're seeing so far we'd expect a better year in terms of order inflow as well as commercial aircraft deliveries.
What holds for both manufacturers is that they are oversold on their single aisle programs and there is the possibility to hike production rates beyond levels currently announced, though the supply chain and especially the supply chain of the propulsion systems should be stress tested thoroughly and this might delay a rate hike somewhat.
Overall, we remain positive on the commercial aircraft market and ability for both jet makers to benefit from this growing market.
Disclosure: I am/we are long BA, EADSF.
I wrote this article myself, and it expresses my own opinions. I am not receiving compensation for it (other than from Seeking Alpha). I have no business relationship with any company whose stock is mentioned in this article.
Editor's Note: This article discusses one or more securities that do not trade on a major U.S. exchange. Please be aware of the risks associated with these stocks.